HOW TO CLEAN YOUR KEYBOARD
http://lifehacker.com/5896699/how-to-speed-up-clean-up-and-revive-your-mac?tag=backups
The weather's turning warmer in our neck of the woods, which means it's time to start thinking about
spring cleaning
. While you're emptying your closets, decluttering, and getting rid of the bloat in your life, why not do the same for your Mac? Here are some simple, easy to follow tips to give your trusted Mac a little spring cleaning of its own.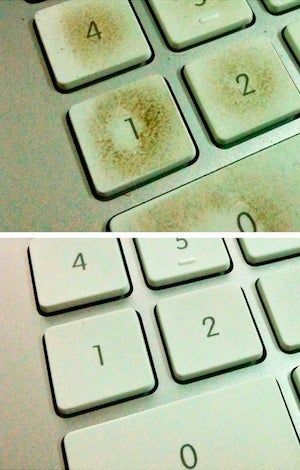 Clean It Out
Let's start with the outside of your system. Turn it off, unplug everything, and move it out from where you normally have it set up. Give the area around your Mac, whether it's an iMac on your desk, or a Mac Pro under your desk, a good cleaning—there's probably dust and grime built up around it. Apple has
specific guidelines to cleaning your gear
, and while each system is a little different, it's always a safe bet to take a
microfiber cloth
to the surface of your device to wipe away the dust and any smudges or oils that may be lingering on your screen or case. Apple suggests a damp, lint-free cloth to do the job, but even a dry microfiber cloth will get he job done—especially on displays and screens where you absolutely don't want to use harsh chemicals of any kind.
Photo by Cheon Fong Liew.
Even though it's not officially recommended by Apple, a little compressed air will go a long way towards getting the dust out of the cracks, crevices, and exhaust vents. If you have a Mac Pro, you can crack the case open and attack the inside with the same cloth and compressed air.
If your case or keyboard are seriously gunky, we highly recommend
attacking the filth with a Mr. Clean Magic Eraser
, but keep in mind that they—and other melamine sponges—are slightly abrasive, so you may be rubbing away grease and dirt, but if you keep scrubbing you can wear away the top layer of the finish as well.
Tame