The Next Best Thing to Robert Redford
http://itsybitsyfoodies.com/the-next-best-thing-to-robert-redford/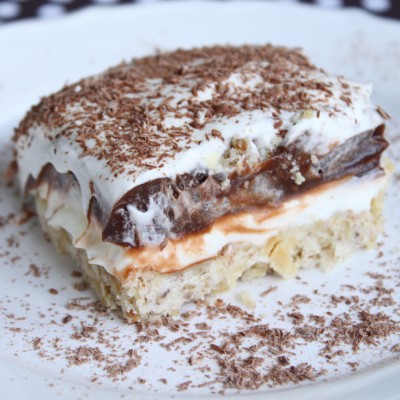 The first time that my husband spent Thanksgiving with my family we were all gathered around the dessert table after dinner and my Aunt pulled out a pan of a layered pudding dessert. My husband exclaimed, "The Next Best Thing to Robert Redford! This was my favorite growing up!" We all started laughing because we only knew it as the layered pudding dessert. Not to mention that it was especially funny coming from my husband. A quick search on Google, however, revealed that my husband wasn't nuts. There is actually a dessert with this name.
So here it is. The recipe that my husband grew up on. This rich, creamy and chocolaty dessert definitely isn't for the weak. A little bit of the buttery cookie crust topped with vanilla-chocolate pudding and whipped cream goes a long way. The dessert is a crowd-pleaser and it's simple to make, so it's great for parties. The original recipe calls for frozen whipped topping but I couldn't resist using
homemade whipped cream
.