"LOADED" CAULIFLOWER You'll Never Miss Those Potatoes
Pinned from genaw.com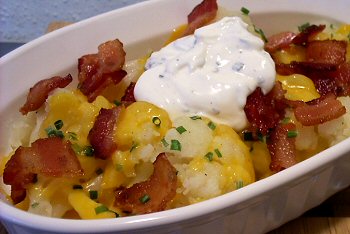 "LOADED" CAULIFLOWER
1 cup cooked cauliflower
1 teaspoon butter
Salt and pepper, to taste
1 ounce cheddar cheese, shredded
1 tablespoon ranch dressing or sour cream
1 strip bacon, crumbled
1 teaspoon chives
Butter and season the cauliflower. Place in an individual-serving baking dish, then top with the cheese. Microwave or broil until the cheese is melted. Top with ranch dressing, bacon and chives.
Makes 1 serving
Do not freeze
Per Serving: 290 Calories; 25g Fat; 12g Protein; 6g Carbohydrate; 3g Dietary Fiber; 3g Net Carbs

I wasn't trying to pretend that this was a baked potato, but I had the idea of topping cauliflower with all of the things that go on a baked potato. It was quite good.
Here's a broccoli version: