This beautiful (and inexpensive!) basket is made with a handful of paint stir sticks found at any homecenter, a square dowel, and some staples. Use it as a decorative centerpiece, or as stylish storage on a shelf. No matter the use, you'll be amazed by how quick and easy it is to assemble!
Opener Photo Credit: Ashley Largesse Photography
Cost:
$3
Time: 15 minutes
Difficulty: Easy. Just cut the paint sticks and dowel to size, and then assemble the parts with wood glue and staples.
Steps
1. Prep the Parts
Cut the paint sticks and square dowel to size using the cut list above. Apply paint or stain to each paint stick. Using a paint pen or marker, color the staples.
Tip: Since I chose a dark stain, I started with a coat of Minwax pre-stain to avoid blotches. I finished with Minwax wood stain in Walnut and a coat of polyurethane to amplify the stain color and protect the finish.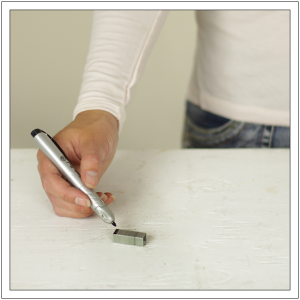 2. Attach the Paint Sticks to the Dowels
To create lapped corners, position the paint sticks so that one end overhangs the square dowels by 1/8 inch. Use the thickness of a scrap paint stick as a spacer. Alternate the overhanging edges as shown in the diagram below. Apply a dot of wood glue beneath the paint stick, and then secure it using a staple gun and 3/8 inch staples.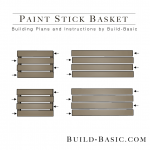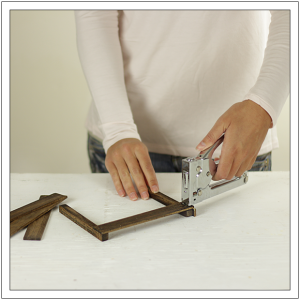 3. Finish Assembling the Short Walls
Continue gluing and stapling each paint stick in place, allowing about ¼ inch spacing between the slats. The top and bottom paint sticks should be flush with the ends of the dowels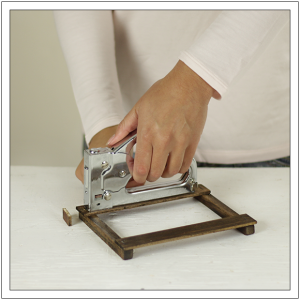 4. Add the Floor Cleats
To create a cleat for the floor slats to set on, position a square dowel along the inside of each assembled wall, flush with its bottom edge. Apply glue between the cleat and the slat, and then shoot a staple through the outside face of the paint stick and into the cleat to hold it in place, as shown.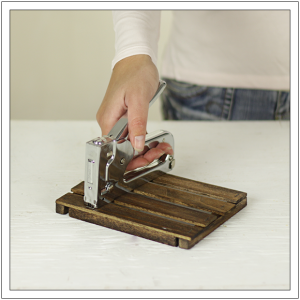 5. Attach the Long Slats
Lay the long slats across the dowels, alternating their overhanging ends as shown in the diagram in step two. Apply glue, and then attach the paint sticks using a staple gun and 3/8 inch staples.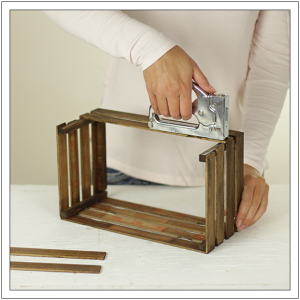 6. Insert the Floor Slats
To create the base of the basket, lay the 11¾ inch paint sticks onto the cleats. Space them evenly, apply a dot of glue beneath each end, and then staple them in place.